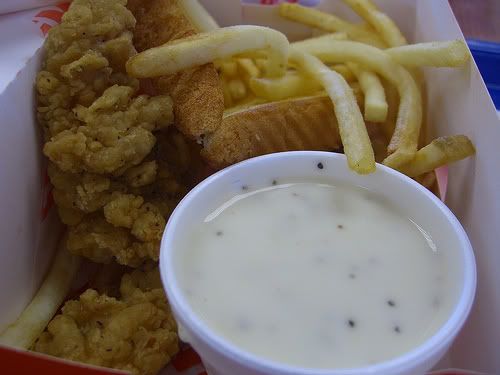 I am foodie. I love a good meal. One of the cool things about San Antonio is all the food options. We are quite spoiled with the restaurants around town. When we first visited in 2006, Jerry and I ate at a fast food restaurant called Whataburger. It was love at first bite for Jerry. He enjoyed their hamburgers. It reminded him of the way they used to make burgers when he was a kid.
For me, it was the chicken strips with white gravy. Texas was the first place I've ever bought a fast food meal that offered gravy. Until that point only KFC offered gravy with its mashed potatoes. Whataburger had it as a side for the chicken strips. I was so used to having sweet and sour sauce or barbecue. White gravy? Great concept.
I am so hooked on it. I know it's bad for me, but I can't help it. It tastes so dang good.
They dish is up with Texas toast on the side. Can you say, goodness personified? lol It offers up comfort. To me, fried chicken, white gravy and toast is old fashioned comfort. It's not the tofu, soybean, lettuce alternative. It's tasty goodness.
So, I'll just ride an extra mile on my bike. It's so worth it.