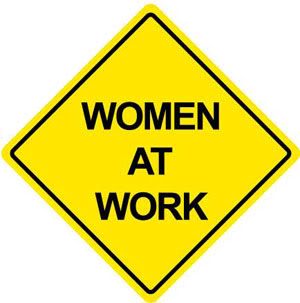 "I don't take orders from a woman, I quit." Those words were uttered last week by a young male worker and I am still in shock. In today's work world, women are everywhere. And when I say everywhere, I mean everywhere--from taxi drivers to doctors and every field in between. In all aspects of business life, females are successful. We show up in all levels of the professional world. Not only are we employees and supervisors, we are CEOs and owners of companies, too. Yet, the old ignorant bias still exists.
I try to wrap my head around how someone could say those words and I find that I can't. If either of my two sons even uttered those words I would have disciplined them in a nuclear way. How scum sucking ignorant do you have to be to say that to a woman's face?
Yes, there are still glass ceilings that women have to shatter. It's better now than it's ever been, in my opinion. I'm not blind to the fact that a lot of women do deal with discrimination in the workplace, some successfully, some not so successfully. But having a woman boss is commonplace in many fields of business. It's not that unusual anymore.
According to the Bureau of Labor Statistics, "In 2008, 59.5 percent of women were in the labor force, and this share has been relatively stable over the past several years."
"In 2008, women accounted for 51 percent of all persons employed in management, professional, and related occupations, somewhat more than their share of total employment (47 percent). http://www.bls.gov/cps/wlf-intro-2009.pdf
So how can this young man say such a stupid comment? I don't know. Maybe it boils down to how they were raised. If they were raised in a household where the wife was subservient to the husband, stayed at home, told that being a "housewife" was the proper way for a woman to act, then I could see the problem.
Being a "good" wife/mother does not mean you have to stay at home, clean the house, raise the kids and not work. Yes, home life is incredibly important, but in this day and age, there has to be a balance. The economy has made it so that both husband and wife must work to maintain a decent life.
You have to respect what women bring to the workforce. We don't weaken it, we strengthen it. We bring empathy, understanding, intelligence, and multi-tasking skills that only benefit businesses and employees.
We've come a long way baby, but apparently we have a long way to go.