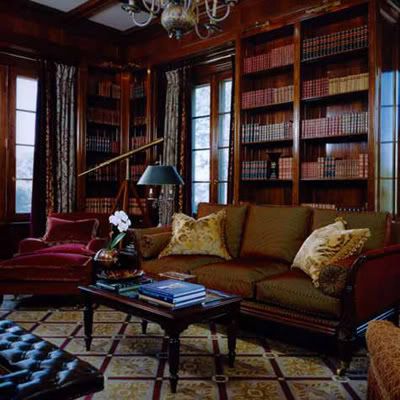 It's funny how as I plug away at work, daydreams tend to happen. I don't plan them, they just pop into my mind. The latest one haunting my thoughts is of a bookstore. It's not any bookstore I've ever been in before, but one I think I want to own.
I would love for it to strictly be a mystery bookstore. Something with a cool sounding name--like Dial M for Mystery or Murder Inc.
You have to remember, this is a dream bookstore where I don't worry about inventory and bills and employees calling in sick. This is a place where there are nothing but oversized chairs and ottomans to put your feet on. Soft music in the background would lull readers into a calm mood. The smell of coffee and cocoa would tweak the nose and homemade goodies tease and torment those on a diet.
Large side windows would overlook a view of a lush, green meadow. It would be a home away from home. No stress, no hassles or cell phones to interrupt. It would even sport a fireplace so in the winter, a crackling fire would greet visitors.
Hey, I said it was a dream. Maybe it should be a used book store. They are always more relaxing than the new stores. I like being around readers. People are just content to put their feet up, read a good book and relax.
Oh well, dreams are meant to be enjoyed. I know if someone came up with a really comfortable bookstore, with more than enough soft chairs, and an atmosphere of calm tranquility, I'd be there. Barnes and Noble are nice, but you are always fighting to get a comfy chair. Come on, they sport wooden chairs at B&N. Who wants to sit on a hard school-like chair to read? It's just not right for me. I buy and get out. I don't want to linger.
It's a good thing I have my own library at home. I have the comfy chairs and ottoman. I have the books that I love right at my finger tips. Soft music tickles my ears. The only thing I'm missing is the fireplace. Maybe one day.
Hey, a girl can dream.